Published on 05-03-2023 in CGN
Paul Doop inducted into SIPAA Sweden's Hall of Fame
On Saturday March 4, CGN chairman Paul Doop entered the Hall of Fame of the Swedish sister organization Scandinavian Indoor Performing Arts Association (SIPAA). That happened at the end of Music in Motion 23, SIPAA's biggest competition event in Mölnlycke, just outside Gothenburg.

The cooperation between SIPAA and CGN is very close and has existed for years. With the Hall of Fame appointment of the CGN chairman, this close cooperation is emphasized even more.
Paul was surprised with the appointment and called it "very honourable".
The prize was awarded in front of all participating groups and the large audience present. A wonderful gesture that, in Paul's words, "is not only special for me personally, but even more emphasizes the cooperation and friendship between both organizations."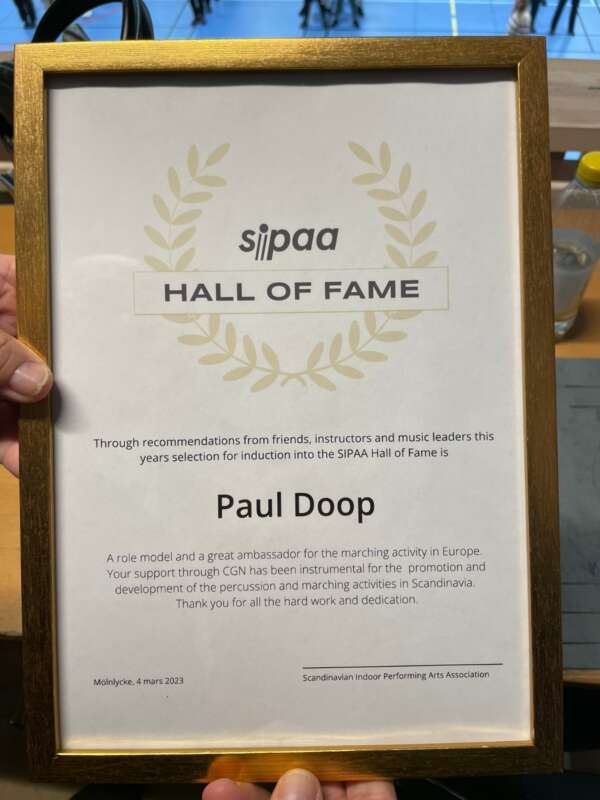 The event featured no less than 16 performances in 4 different classes. These were provided with expert commentary by part of the CGN Jury Team.
It was also the event where Indoor Winds entered SIPAA this year. The level continues to grow in Sweden and we hope this trend continues. Perhaps in the future we will see more Swedish groups participating in the CGN competition and vice versa.
A few years ago a number of CGN units traveled to this SIPAA competition and this time Drum Spirit from Belgium was present.

For the results we refer to the reporting from SIPAA, on www.scanipaa.org.